Official IPL Laser Hair Removal Handset designed to deliver long-lasting visible results in just 4 weeks, full-body treatments are done in 30 minutes, just once per week.
Beautiful. Unique. Effective.
Works on any body part including the face and Brazilian area. Your handset will utilize clinical-grade technology that is certified for safe and effective at-home hair removal. 
Get long-lasting results at the fraction of the cost of clinical laser treatment.
The best part is... there are no hidden costs and no refills needed, ever!
How Does It work?

Our IPL Laser Hair Removal Handset is the perfect solution for anyone looking to try out 
laser hair removal at home
. Using cutting edge intense pulsed light technology, our IPL device uses powerful light pulses to destroy unwanted hair follicles and offers 
quick and long-lasting results.
 Ideal for long-term, permanent hair removal, this laser hair removal device can perform a full body treatment in as few as 30 minutes - and 
it's pain-free!
Light energy from IPL is absorbed by the melanin in the hair, which then turns to heat and destroys the hair cells. This causes hair regrowth to slow down significantly after each treatment. With visible results in just 4 weeks, and full results within 12 weeks.


Is It Safe?
There have been numerous clinical studies conducted that demonstrate the safety and effectiveness of IPL for hair removal. Due to this fact, it has become an extremely popular option for a safe and effective method of hair removal at home and in clinics.
Does It Hurt?
One of the biggest advantages of IPL over other forms of hair removal is that it is far less painful. The feeling can be described as a warm sensation on the skin.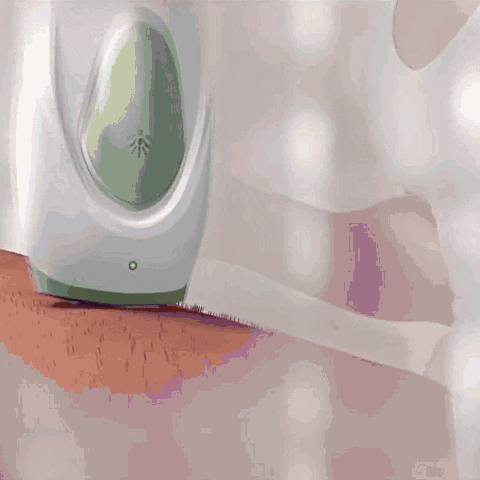 How often do I need to use it?
We recommend using your handset once a week for the first 12 weeks. After this period use your handset once a month, for 3 months or until satisfied. To maintain hairless smooth skin, use your handset once every 2 to 3 months, or as needed.
Which areas of my body can I use this on?
You can use your handset on your entire body, including your face (just be sure to not get too close to your eyes).
How long does a treatment take?
The time can vary depending on the area of the body that is treated. A full leg can take up to 5 minutes and one armpit can take 2 minutes. A full-body treatment  takes about 30 minutes. 
How much time will take to see results?
You will see visible results after the first session and up to 75% hair reduction in just 4 treatments. Safely removes up to 95% of the hair in under 4 months, with one maintenance treatment required every 4-8 weeks.
Have Questions? Just Contact Us